Today is Super Bowl Sunday. I'm writing this at 9 o'clock in the morning and I'm sure there is pregame programming on right now making predictions. I predict that the Giant will win and it will be a close contest. But I really wouldn't care if the Patriots win.
Just for the record, I'll state I correctly predicted the outcome of the Super Bowl. Too bad my squares didn't cooperate.

— Matt Keough (@MattKeough) February 6, 2012
I am a Browns fan. I have no rooting interest. Some would say I should root against the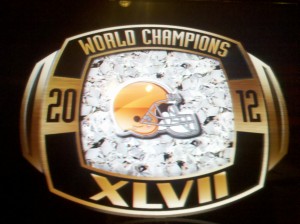 Patriots because Bill Belichick was not well-loved when he was the Browns coach. I don't live in the past when it comes to the Browns. As a matter of fact, I don't live in the present. The only place a Browns fan can live is in the future. In the future the Browns will win the Super Bowl.
I will admit there is scant evidence that this will happen anytime soon. It does not matter. This is how we cope.  If we were to dwell on the last decade or so of Browns performances, we would only become bitter and cynical.
So on this day of great excitement or disappointment for Patriots and Giants fans, do not despair. ONE DAY THE BROWNS WILL WIN THE SUPER BOWL!